Wednesday, August 13, 2008
Sunday, May 11, 2008
Highlights of the Chillin 10th Anniversary party at Mezzanine included live screen printing by San FranPsycho and some of this seasons fresh looks from SF based clothing company, 22 Tykoon. Bay area based and co founded by Sigur Sprang and Shoshana Bennett in 2004, is a collection of local, street gear with its images derived from distinct aspects of urban life. Each garment is a one of a kind and highly personalized. "Most importantly 22 Tykoon is a frame of mind and not about how fat your pocket is." The must have item is their hoodie that features a screen printed design and is equipped with a fully lined hood made from vintage ties. Truly one of a kind.
Be sure to check out their full catalog on their website, www.22tykoon.com.
For any additional requests, inquiries or orders please contact Sigur Sprang, Sigursart@gmail.com
check out some of the designs they are working with.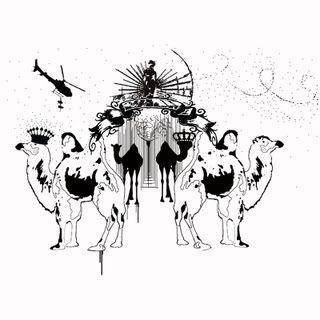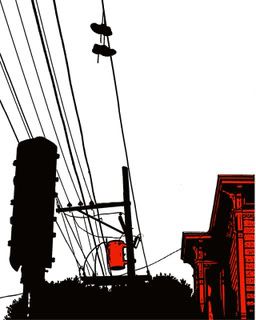 Posted by

ModedSF
at 1:34 PM
No comments: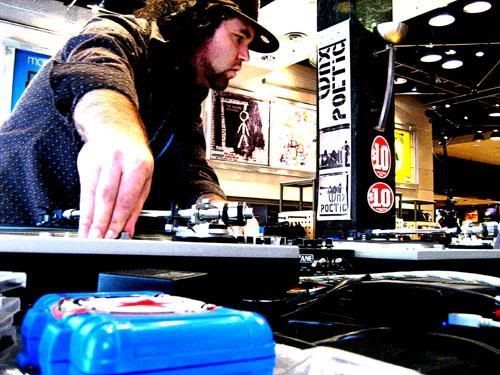 Kool Karlo, resident DJ for numerous parties in the city including Hella Mode, F is for Friday, 80's rhythm of the night not to mention his weekly residences at bars such as HiFi and Mr. Smith's has been hard at work blowing up the scene and redeeming us with good music. Here is his latest mix just for you.
http://www. zshare. net/audio/10548694764b908b/
And a few words from Karlo...
Not ever sure who reads these thing but if you know me even a little bit then its no surprise that I ramble about music all the time. Its about the only thing that keeps me sane in the Succa Free City. It also gets me in trouble too ie: spending the majority of my life in clubs, getting smashed, staying up way too late on school nights (i don't actually go to school or have a job) and eating Junk food after getting smashed. Aside from all the club antics and drunken late night skateboard missions, I have been creating some music. I know I've been doing lots of cheese remixes lately but its been a necessity for the weekend club gigs. I figure if I'm gonna be hassled while DJ'n by poorly dressed sorority girls and drunken Indian investment bankers (dot not feather) I might as well be dropping my own remixes. At the same time I still try to produce as much original music as possible. As some of you know I spin several types of music including: breakbeats, the breaks, REAL electro, house, techno, tech house, minimal tech, hiphop, top 40, funk and soul, booty bass, bmore, baymore, rock, hipsterdancemusic, nu rave whatever the fuck that is, downbeat, and still scratch almost every time I'm on the decks. It's been a challenge mastering all these different genres of music but after 11 years of DJ'n/ producing and a lifetime of listing I feel like I'm finally making some progress. I've got my own little halfass studio and i couldn't be happier. Heres my gift to you all for supporting my ass and coming to my shows. Just cooked it up today.
I'm gonna blog this to so feel free to say hi.
Tracks called
"Let me beat this level"
You can check it out on my page or download it for free!
URL=http://www.zshare.net/download/54362955ed8439/]let me beat this level rendered.mp3 www.myspace.comdjkarlo - 9.86MB[/URL]
http://www.zshare.net/download/54362955ed8439/
Thank you all for the support and that includes the sorority girls and Indian investment bankers.
Keep it Fresh
Kool Karlo
www.myspace.com/djkarlo
www.destroynations.com
upcoming parties: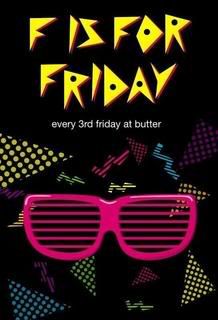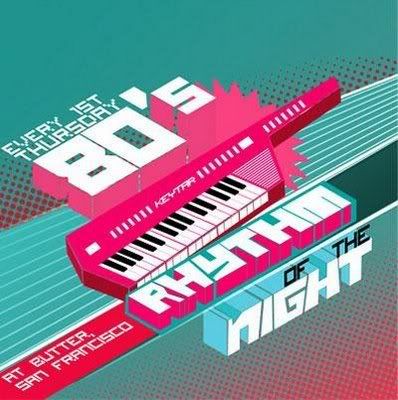 Posted by

ModedSF
at 1:00 PM
No comments:

Your Tuesday nights will never be the same once this new 2nd Tuesday summer monthly hits the decks with all of your favorite SF house, tech, and electro Djs rocking out in puffy tulle tutus! All guests are encourage to party on in their most fabulous tutu garb and if you don't already have one, there will be a tutu creation station and gift shop where you can make your own or select your favorite handmade one on display at the party. Exciting prizes for the best tutus on the dancefloor and fun tutu loot like logo stickers and temporary tattoos make this party tutu special to pass up.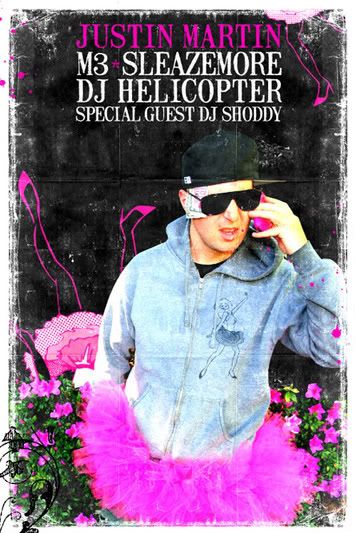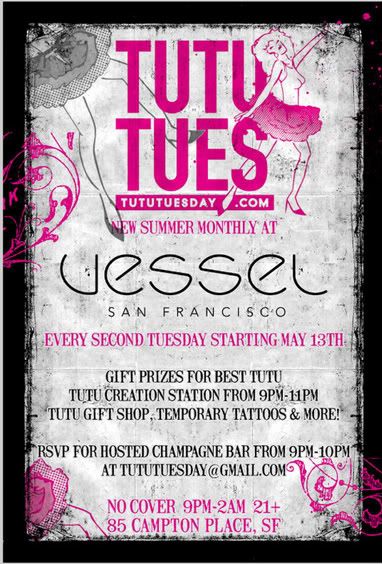 Posted by

ModedSF
at 12:44 PM
No comments:

Saturday, May 10, 2008
Mezzanine is hosting an event tonight that will be showcasing some of SF's known artists, ranging from DJ's, Fashion Designers, Painters, Photographers and Filmmakers. Come support your local art community and see what they have been producing. Live screenprinting by the SanFranPsycho boys. Be sure to bring a tee shirt or booty shorts.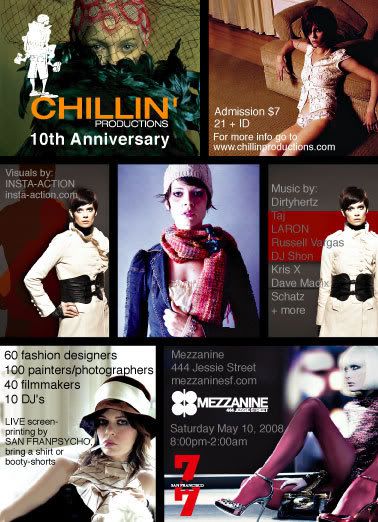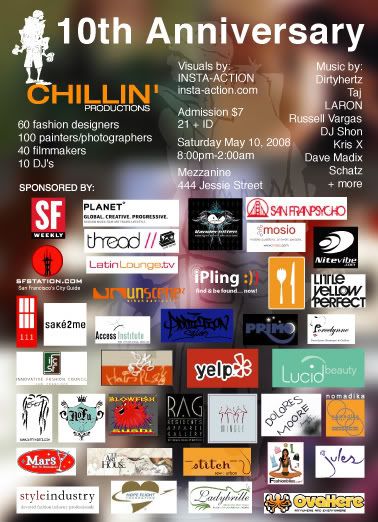 Posted by

ModedSF
at 2:52 PM
No comments:

Our favorite booking agent turned photographer, Mozghan Shariat, will be showcasing her newest work at our little tenderloin gem, 222 Hyde this coming Thursday. It will be an award winning show not to miss!!!
The one and only....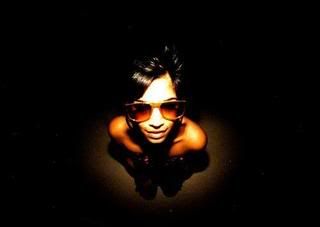 All the info you need below...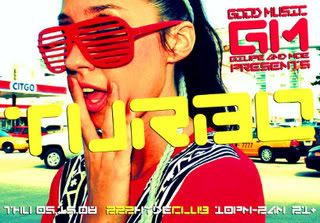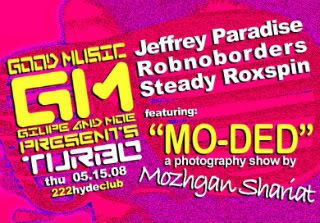 Posted by

ModedSF
at 1:19 PM
No comments:

Posted by

ModedSF
at 12:50 PM
No comments: